Become a Member of Therapy Dogs by making a Donation:
More information:
Therapy Dogs
Τ. 6939 664774
E. info@therapydogs.gr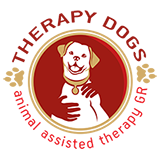 By postal check
By depositing into our deposit account:
Piraeus Bank:
Number: 5220-084549-043
IBAN No. GR72 0172 2200 0052 2008 4549 043
By credit card (Via PayPal –

info@therapydogs.gr

)
Become a member of Therapy Dogs and get the Membership Card with unique privileges at a number of partner businesses.
Download and complete the application form here: